About Toni Rodriguez and Wildslice

Wildslice, our bilingual vegan pastry academy, was born in 2018, when we decided to build in Barcelona a team and a space where to research, develop and innovate this sweet and respectful world.
Today, the vegan pastry R&D we started 15 years ago has helped us to teach in more than 20 countries, launch our online school and write 5 books on vegan cooking and pastry.
All to demonstrate that (if we get rid of prejudices) a well-crafted vegan dessert not only enhances the flavor and gives options to people with intolerances and allergies, but also builds a fairer world for animals and the environment.
We have also learned that you never stop learning and that to keep evolving in vegan pastry, you have to do three things:
Try
new ingredients

that are not used in traditional pastry making.

Investigate those
we already work with

to see how they work in new elaborations.

"Veganize"
traditional recipes

and enhance their flavors with the knowledge they have built up.
All this saves our students more than 15 years of frustration due to trial and error in the intensive face-to-face Contemporary Vegan Pastry Course.
Go to the course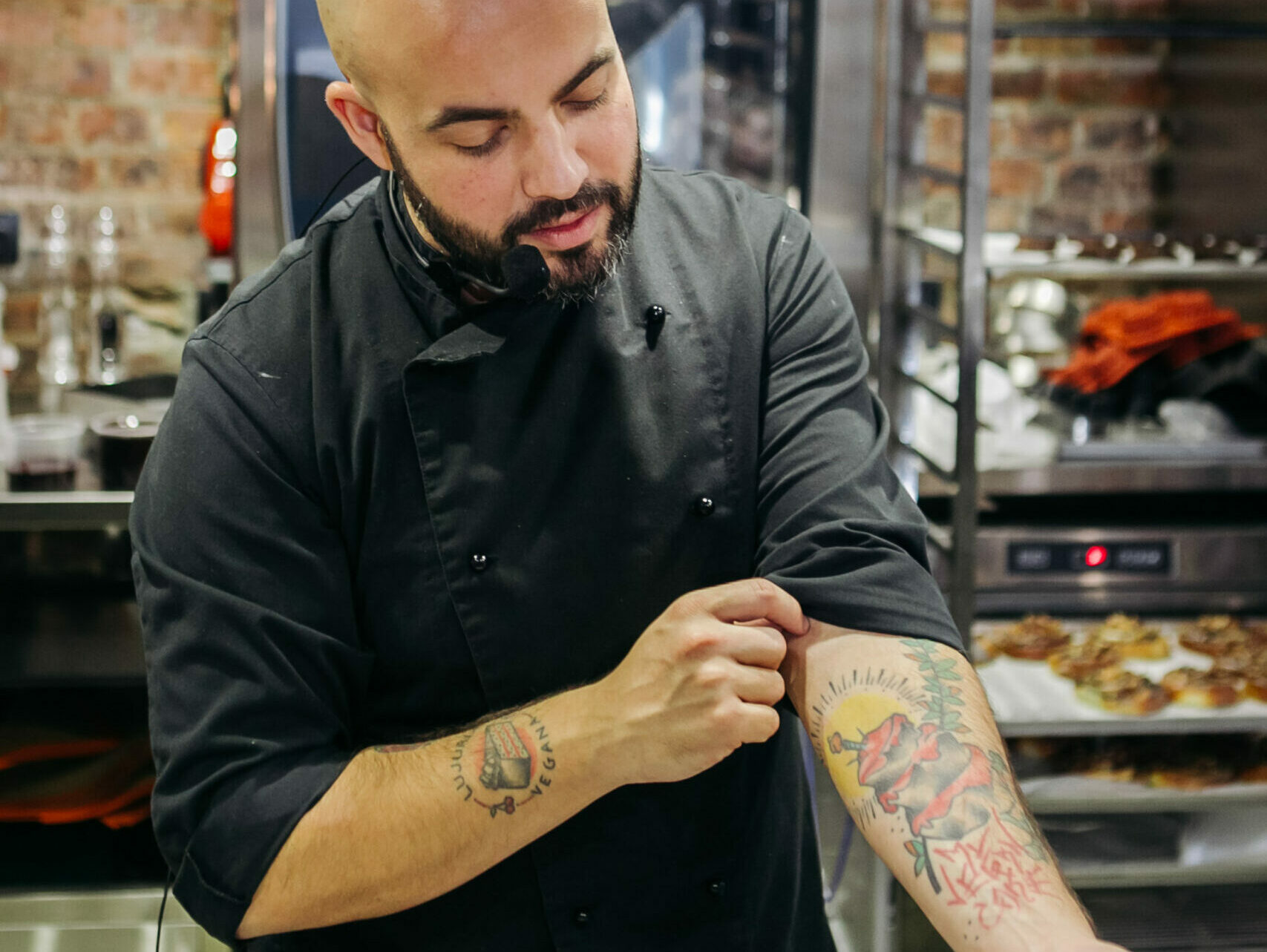 I was a grandfather at the age of 19...
but it is not what it seems.
Some people tell me that I am "the grandfather of vegan baking" because when I started experimenting in 2004, there was no guidebook to rely on.
It was all to be done... think about this: 12 years ago, you had to try proteins that came in 15 kg industrial bags, with no instructions for use. Now, you can buy a jar "for home" with instructions on the back.
I tell you how Paul McCartney and an avocado changed the course of the bakery (and they don't know it):
When I was 17 years old, my sister gave me Paul McCartney's DVD of the concert for the 20th anniversary of the animal rights organization in the USA.
My sister, a quasi-vegetarian, put it on while I ate a plate of pork loin with something. We were beatlemaniacs and there were other very good artists playing.
At the end of the concert, there were images of farms, slaughterhouses... It made a big impact on me. It made me think about how inconsistent it was to love my dog Kobi and eat the meat of other animals. I pushed the plate away... and that was it. This was funny because I only ate meat. The only two vegetables I ate were artichokes and raw lima beans that my father gave me. Not one more. But I said to myself: "Never again, I don't want to collaborate with this". That day I gave up meat... and today it's been 18 years.
And the avocado? I will never forget when they told me: "put it in the sandwich" and I said: "I don't like it" before tasting it and... Boom! That moment changed my life because I understood that if avocado was so good like that, everything can be good if we combine it well.
I quit computer science and started washing dishes in a vegetarian restaurant:
8 hours there, and then 8 hours testing at home.
I set up my first
my first Lujuria Vegana workshop in my apartment in 2005.
There began the tests to extract the knowledge and make vegan pastry: proteins, fibers, talks with chemists....
2010 was an important year. After hundreds of failed tests and against all odds, the macaron and the vegan coulant finally arrived.
At that time Lujuria vegana was already a semi-industrial bakery that delivered throughout Spain and later in Europe.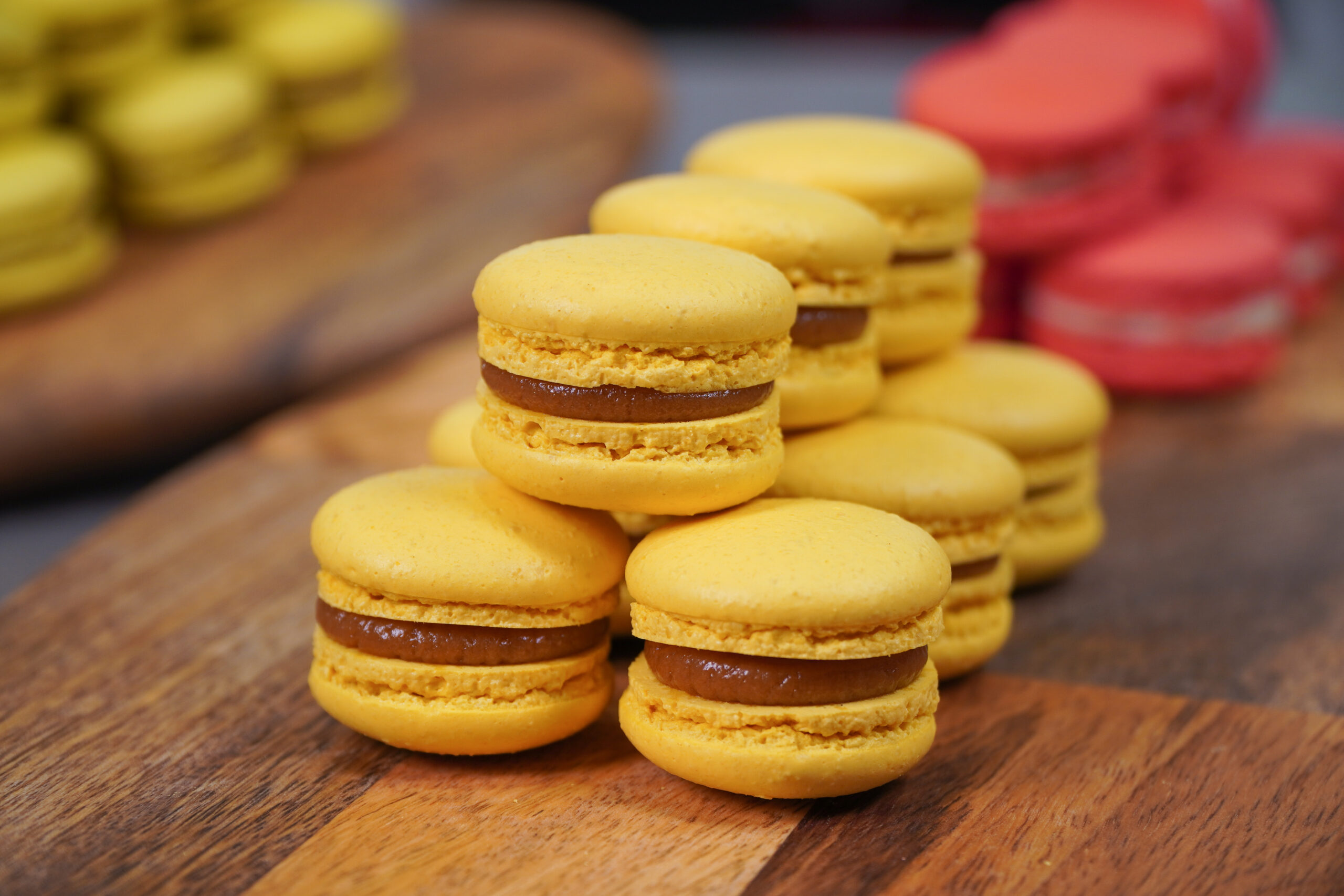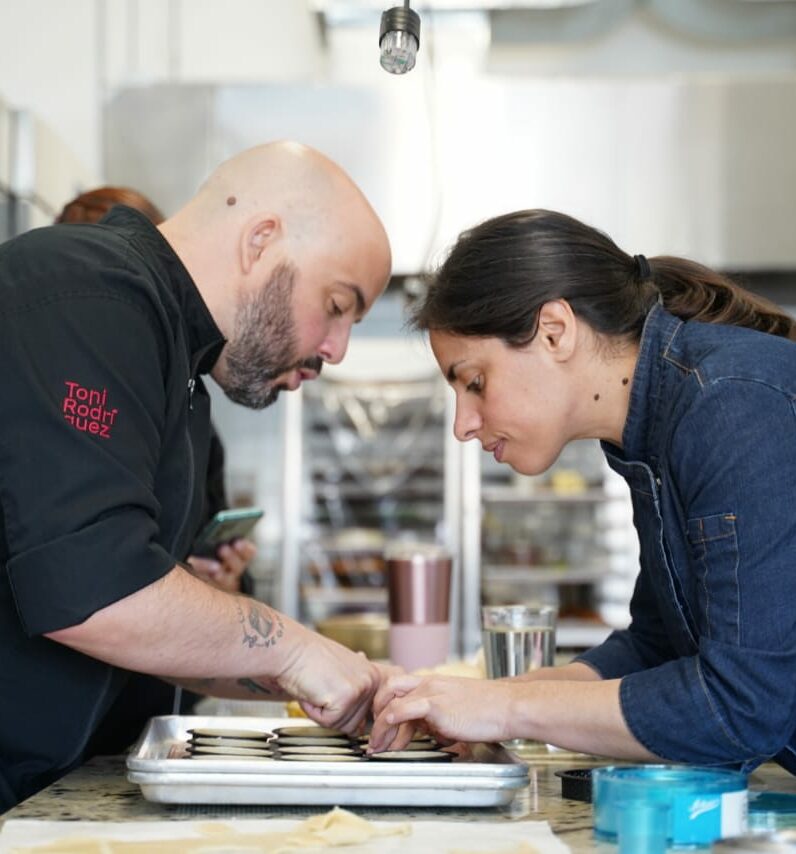 I started teaching in schools and gastronomic spaces, wrote my first 3 books and met Sara, co-founder of Wildslice.
After some adventures in Mallorca, Sara and I decided to return to Barcelona to open our own training school and a space for research and development in vegan pastry.
Subscribe to our newsletter!